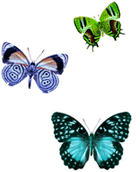 Our standard package offers 2 hours of coaching per month -- usually done in four, 1/2-hour sessions, once per week via telephone.

We begin the process with a "discovery" session, where we establish the foundation for our coaching relationship. During this session we explore the primary areas you would like to focus on during the coaching relationship and design an alliance that is tailored specifically to your needs.


After years of directing photo shoots with celebrities, models and "real people", and working with numerous life coaching clients, Melissa saw a common thread: many women do not recognize their own beauty! This can lead to a lack of confidence, poor body image and low self-esteem that often prevents women from reaching their full potential.

In response to this need, Melissa developed a revolutionary program called "Inner Peace & Outer Beauty" which helps participants tap into their true essence and see themselves in a new way.

The process begins with a questionnaire to assess how the client currently feels about her "inner" and "outer" self. Once the questionnaire is completed, we schedule a "transformation session" (approximately 4 hours, in person) at which time we focus on the "inner" through coaching and visualization. Then we move to the "outer" where Melissa utilizes her expertise in hair and makeup application and wardrobe styling to transform the client's look.

We refine -- you shine!









We know it can be a jungle in there -- let Melissa help you tame it! She will edit your existing wardrobe to eliminate what's not working and advise you on how to get the most mileage out of your current clothing. Melissa will also make recommendations on items to purchase in order to enhance your wardrobe, flatter your body type and strengthen your personal style.



Are you overwhelmed by too many products in your makeup cabinet and all the choices at the cosmetics counter? Melissa can help you make sense of it all. She'll advise you on what to keep, what to toss, what to buy and how to apply like an expert!



Melissa can help you navigate the minefield of malls and boutiques! She'll be your intrepid guide, sorting through racks of clothing, choosing the best options for you to try on and making recommendations on the best looks for you. She can also help you sort through the avalanche of products at the cosmetics counter.



Melissa can present one of her powerful existing programs or can customize a workshop for your group. For more information, please contact rob@liferefinery.com.